So what were the books that everyone was buzzing about this year? This week, we're revealing the most popular books and movies of 2018 according to stats provided by you, our patrons. Your requests and your checkouts are how we built these lists. Today, we'll start with children's and YA books, before revealing the top 10 adult non-fiction titles of 2018. On Friday, we'll reveal the top 10 DVDs as well as the top 10 adult fiction books.
When you look at the top kids' books, you may wonder why several books of the same series are listed. With children's series, we tend to see a lot of "bulk" checkouts, where parents and children will check out several books of the same series. It's a great way to see what children's characters are in vogue at the time.
What do you think of the list? Let us know by following us on Facebook, Twitter, and Instagram, and use the hashtag #MyDMPL.
Children's Collection:
10) Diary of a Wimpy Kid #11: Double Down, by Jeff Kinney
09) Don't Let the Pigeon Stay Up Late, by Mo Willems
08) Ghosts, by Raina Telgemeier
07) Waiting is Not Easy (An Elephant and Piggie Book), by Mo Willems
06) I Really Like Slop! (An Elephant and Piggie Book), by Mo Willems
05) The Thank You Book (An Elephant and Piggie Book), by Mo Willems
04) Greg Heffley's Journal, by Jeff Kinney
03) Diary of a Wimpy Kid #10: Old School, by Jeff Kinney
02) Smile, by Raina Telgemeier
01) Diary of a Wimpy Kid #12: Getaway, by Jeff Kinney
Young Adult:
10) Divergent, by Veronica Roth
09) The Maze Runner, by James Dashner
08) The Hammer of Thor (Book #2, Magnus Chase and the Gods of Asgard), by Rick Riordan
07) The Lightning Thief (Book #1, Percy Jackson and the Olympians), by Rick Riordan
06) The Ship of the Dead (Book #3, Magnus Chase and hte Gods of Asgard), by Rick Riordan
05) The Fault in Our Stars, by John Green
04) A Wrinkle in Time, by Madeleine L'Engle
03) The Dark Prophecy (Book #2, The Trials of Apollo), by Rick Riordan
02) The Hate U Give, by Angie Thomas
01) Turtles All the Way Down, by John Green

Adult Non-Fiction: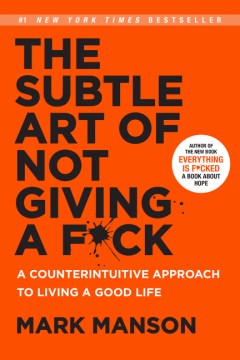 10) The Subtle Art of Not Giving a F*ck, by Mark Manson
Filled with entertaining stories and profane, ruthless humor, a generation-defining self-help guide, written by a blogger who is read by more than 2 million people each month, helps readers figure out the things that they should care about to lead contented, grounded lives.

9) 12 Rules for Life, by Jordan Peterson
What does everyone in the modern world need to know? Renowned psychologist Jordan B. Peterson's answer to this most difficult of questions uniquely combines the hard-won truths of ancient tradition with the stunning revelations of cutting-edge scientific research.
8) Killers of the Flower Moon, by David Grann
In 1920s Oklahoma, the Osage Indian Nation possessed immense wealth because their land contained large petroleum reserves. In Killers of the Flower Moon, New Yorker staff writer David Grann portrays a series of murders on the reservation. Local authorities couldn't solve the crimes, but an investigation by the relatively new FBI (led by the young J. Edgar Hoover) identified and charged the killers, whose primary motivation was greed. In this thoroughly researched history, Grann also reveals conspiracy and corruption beyond what the FBI discovered.
7) I'll Be Gone in the Dark, by Michelle McNamara
An account of the unsolved Golden State Killer case, written by the late author of the TrueCrimeDiary.com website traces the rapes and murders of dozens of victims and the author's determined efforts to help identify the killer and bring him to justice.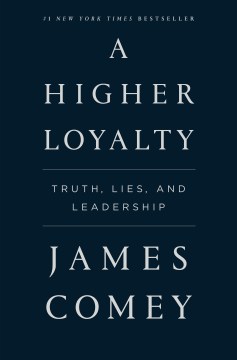 6) A Higher Loyalty, by James Comey
The former FBI director shares his experiences over the past two decades working in the American government and explores ethical leadership and how it drives sound decision-making.
5) Girl, Wash Your Face, by Rachel Hollis
Do you ever suspect that everyone else has life figured out and you don't have a clue? If so, Rachel Hollis has something to tell you: that's a lie. In this challenging and inspiring book, Rachel, founder of the lifestyle website TheChicSite.com and CEO of her own media company, exposes the twenty lies and misconceptions that too often hold us back from living joyfully and productively, lies we've told ourselves so often we don't even hear them anymore.
4) Fire and Fury: Inside the Trump White House, by Michael Wolff
Reveals the chaos of Donald Trump's first nine months in office, detailing why Comey was really fired, how to communicate with the president, and who is directing the administration following Bannon's dismissal.
3) Fear: Trump in the White House, by Bob Woodward
Bob Woodward draws on interviews with firsthand sources, meeting notes, personal diaries, and other documents to depict life in the Trump White House, focusing on Trump's decision-making process for foreign and domestic policies.
2) Becoming, by Michelle Obama
An intimate memoir by the former First Lady chronicles the experiences that have shaped her remarkable life, from her childhood on the South Side of Chicago through her setbacks and achievements in the White House.
1) Educated: A Memoir, by Tara Westover
An unforgettable memoir about a young girl who, kept out of school, leaves her survivalist family and goes on to earn a PhD from Cambridge University.